Clergy
Rabbi Melissa Crespy
We are pleased to welcome Rabbi Melissa Crespy to Beth Abraham Synagogue. Rabbi Crespy is serving as our interim
rabbi through June 30, 2022. A native of Freehold, New Jersey, Rabbi Crespy has worked for the past eight years as the staff chaplain for the Mt. Carmel Health System in Columbus. Prior to her chaplaincy work, she served as the Rabbi at Congregation Agudas Achim in Columbus. Before coming to Columbus, Rabbi Crespy held pulpit positions at a series of congregations in the metropolitan New York area as she progressed in her early rabbinic career. She completed her studies and ordination at the Jewish Theological Seminary of America and has worked for JTS as a Rabbinic Fellow, teaching programs for adult students, as well as serving as the Secretary to the Committee on Jewish Laws and Standards. Rabbi Crespy is a board certified member of Neshama, the Association of Jewish Chaplains.
Rabbi Crespy and her husband Larry Kaufman have two adult children, Netanya and Avi.
Rabbi Crespy can be reached at rabbicrespy@bethabrahamdayton.org.
Cantor Andrea Raizen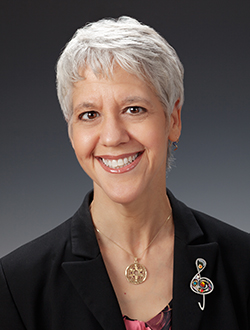 Since 2007 Cantor Andrea Raizen has served as Cantor and Director of Education at Beth Abraham. During the past 30 years, she has also held various positions at congregations in California and Colorado. She earned a Master's Degree in Education from the American Jewish University (formerly the University of Judaism) in Los Angeles, was mentored into the cantorate, and has been a member of the Cantors Assembly since 2001. She was granted the title of Conservative Jewish Educator by the Jewish Educators Assembly. Cantor Raizen is a founding member of the Dayton Jewish Chorale where she sings soprano. Cantor Raizen can be reached at: cantor@bethabrahamdayton.org.