Ruth and Fred Scheuer Life Enrichment Series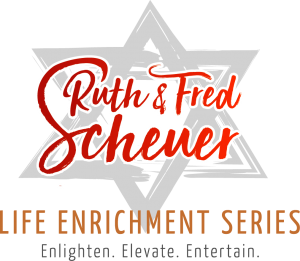 The Ruth and Fred Scheuer Life Enrichment Series is an endowed annual event. It was established to honor their contributions and recognize those values that encompassed Ruth and Fred's lives. Judaism and love of Israel were important to them; the ideals of a strong family unit and lifetime learning were also dear to their hearts. During Ruth's life, she involved herself in work that enhanced the well-being of people struggling to rise above, especially children. From his involvement with the founding of Israel in 1948, Fred was passionate about a strong and independent Israel. Together we honor their vision of L'dor v'dor – learning from generation to generation!
In 2019, our inaugural year, we hosted nationally acclaimed Brandeis University Professor Jonathan Sarna for a Shabbat weekend. His book, American Judaism: A History is considered a leading source to understanding the American Jewish experience. In 2021, we had a virtual tour and live discussion of Americans and the Holocaust, a groundbreaking exhibition at the U.S. Holocaust Memorial Museum, led by its curator, Rebecca Erbelding, Ph.D.
Thank you to Gerald and Edna Willis for their generous support of establishing this endowment.