Social Action
OUR CURRENT SOCIAL ACTION PROJECT – ADOPT A FAMILY
For Hanukkah, we are participating in an Adopt a Family program through the Public Defender's Office. We will be supporting a family of 6 (5 children and 1 adult). Congregation members have been involved by selecting items to buy and wrap, which will be given to the family members. Others in the congregation have donated money to be used to purchase other items for the family.
In November, we supported St. Vincent de Paul, our local homeless shelter, by preparing casseroles, freezing them, and delivering them to be warmed and used by the shelter when needed. Congregants prepared the casseroles at home and brought them to the Synagogue for us to take to St. Vincent's. Nearly 30 casseroles were donated!
SOCIAL ACTION AT BETH ABRAHAM
Beth Abraham Synagogue has a long and rich history of tikkun olam, of repairing the world. Through our partnerships with local non-profit organizations and other religious institutions, our congregants continually fulfill the mitzvah of performing acts of kindness and social justice as we respond to the ongoing needs of our community.
With social consciousness at the forefront of our programming, we strive to incorporate social activities into our holiday, donor and Sisterhood activities.
Community partners have included The Food Bank, Corinthian Baptist Church, CARE House, Ronald McDonald House, Clothes that Work, Montgomery County Juvenile Court, Dayton Children's Hospital, Oak Tree Corner, Dayton VA, St. Vincent de Paul Women's and Children's Center and Artemis Center.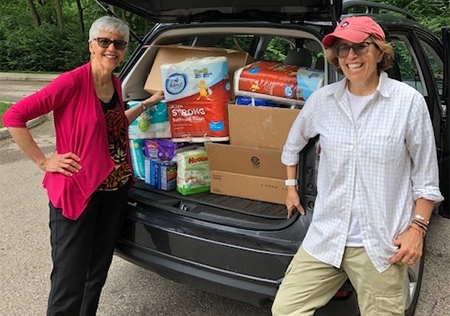 In response to the Memorial Day tornados, congregants responded to the immediate needs of the victims by collecting food, toiletries, water, diapers, cleaning supplies and paper products to those who lost their homes and in temporary shelters.
Additionally, we partnered with Crayons to Classrooms to fill backpacks for children affected by the tornados. Congregants generously donated supplies and financial assistance for students to be able to start the new school year well equipped.